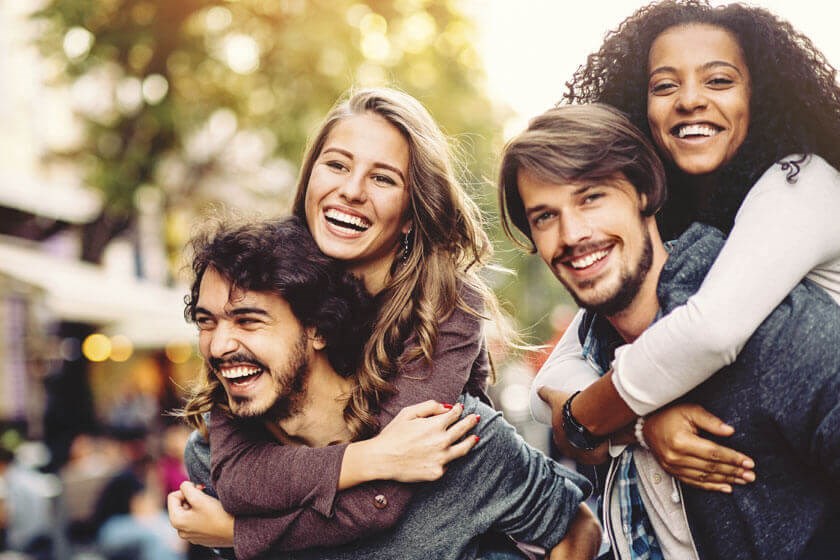 WHAT'S THE DIFFERENCE BETWEEN COSMETIC AND GENERAL DENTISTRY?
Most of your visits to the dentist are to improve your dental health. This includes oral exams and professional cleanings, as well as procedures to repair problems like gingivitis or tooth decay. Cosmetic dentistry is a group of treatments designed to improve the appearance of your smile. If your smile is healthy, but it doesn't look as bright or even as you would like, talk to your board-certified dentist in Medina, OH about cosmetic dentistry. At DentalWorks - Medina Grande, our team is skilled in a wide range of cosmetic dental treatments that we can recommend based on your goals. If you want a more natural-looking smile, you may be a good candidate for teeth whitening or dental bonding and contouring. If you want a stunning Hollywood smile, you may be a better candidate for an orthodontic treatment or porcelain veneers. You could try out one treatment to see how much you like the results or go all-in with a complete smile makeover. Before you schedule your cosmetic dentistry consultation at your dentist in Medina, OH, learn if you are a good candidate and about some of the most popular cosmetic treatments.
BEFORE YOU GET A COSMETIC TREATMENT
Not everyone is a good candidate for cosmetic dentistry. For starters, your teeth need to be healthy and strong. Most dentists in Medina, OH will not perform a cosmetic treatment if you have any problems, including gum disease. This is to protect you from pain or making an issue worse. For example, performing teeth whitening when you have an infected tooth can make your teeth painfully sensitive. However, your dentist can help put together a plan to restore your dental health before you start cosmetic treatments. You should also have a good home oral hygiene routine before you get a cosmetic treatment. This will help you maintain your results and keep your teeth healthy.
COSMETIC TREATMENTS
Whatever concerns you have about the appearance of your smile, there's probably a cosmetic treatment for it. At DentalWorks - Medina Grande, we help with chipped teeth, gaps in your smile, dull or yellow enamel, gummy smiles, and more. These are a few of the most popular cosmetic treatments:
DENTAL BONDING AND CONTOURING
To cover minor cosmetic flaws (for example, small gaps, one or two discolored teeth, short teeth, jagged edges), dental bonding and contouring can be a good option. The dentist bonds a composite resin material to your teeth, then contours both the resin and your natural teeth for a smooth, even finish.
ORTHODONTICS
Straighter teeth can help improve both the appearance of your smile and your dental health. With modern options like clear, removable aligners, more adults in Medina, OH are getting orthodontic treatments to correct crooked or crowded teeth as well as gaps, buck teeth, underbites, overbites, and other problems.
SMILE MAKEOVER
If you have multiple problems, your dentist can create a custom plan of treatments for your smile makeover. This may include orthodontics to straighten your teeth, then whitening to brighten your enamel or laser gum sculpting to correct a gummy smile. Your smile makeover can include whatever you want to give you a beautiful smile.
LASER TEETH WHITENING
If you want whiter teeth faster, in-office laser teeth whitening is a smart choice. The professional whitening product is carefully applied to your enamel and then activated by the laser energy to remove years of stains. In one visit, your teeth can be visibly brighter.
VENEERS
Dental veneers are a thin porcelain shell that is bonded to the front of your top and/or bottom teeth. Slightly transparent for a more natural look, veneers can hide gaps, discoloration, microdontia, and other cosmetic flaws.
LASER GUM SCULPTING
A gummy smile is a common concern among people in Medina, OH who are interested in cosmetic dentistry. Laser gum sculpting is performed to effectively remove excess gum tissue for a better ratio of enamel to gums.
HOME TOOTH WHITENING
Instead of guessing which over-the-counter whitening kit is right for you, ask your dentist about a custom professional home tooth whitening kit. Your dentist will customize your whitening kit with the correct level of whitening gel for your needs and goals. They can also make custom whitening trays, which will be more comfortable and produce more even results.
MAINTAINING YOUR RESULTS
After you choose and receive your cosmetic treatment(s), then you'll want to keep your smile beautiful and healthy. For starters, you should develop a good home oral hygiene routine with flossing once a day and brushing at least twice a day. You may consider investing in an electric toothbrush, which can make it easier to remove enamel stains compared to a manual toothbrush. Mouthwash may also be a good addition to help rinse away stains and bacteria after a meal. Appointments should be scheduled at your dentist in Medina, OH at least twice a year for oral health exams and professional cleanings. When your dental team removes build-up and polishes your enamel during a cleaning, it helps brighten your smile. Your dentist can also recommend products to use at home that will match your dental needs and cosmetic goals. They can also let you know if a treatment (for example, porcelain veneers, teeth whitening, or dental bonding) needs to be re-done to refresh your results. If you had an orthodontic treatment, you should wear a retainer after the main treatment is complete. The retainer holds your teeth in place while your gums and jaw adjust, so it is very important to wear your retainer as often and as long as your dentist recommends.
SCHEDULE YOUR TREATMENT TODAY
If you're ready to makeover your smile, schedule a consultation with your dentist in Medina, OH to learn about your treatment options. If you're looking for a dentist with experience in cosmetic dentistry, contact DentalWorks - Medina Grande. Our team will be happy to perform a cosmetic dentistry consultation and develop a treatment plan to fit your aesthetic goals. We can explain all of the cosmetic treatments we offer and help you decide which one(s) will help create your best smile.